If there is one thing you need to know about finding off-campus housing for the school year, it is that the good places will go fast. You can't just wait until a week before school starts to look for a place and expect to find something that meets all your needs. If you want to find a good off-campus housing option for your next year of school, you have to look as soon as things open up, which is typically the summer beforehand. Here are some tips for getting into OU off-campus housing.
Ask Around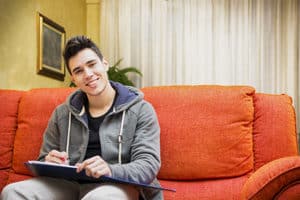 If you have the benefit of already living in the area, then you should use it to its full advantage. You might have friends, friends of friends, or friends of friends with older sisters who are moving out of their apartment that would be perfect for you. So before you hit the pavement, ask your friends, acquaintances, or neighbors if they know of a good place for you that is opening up.
Call When Possible
When you find an apartment that is perfect for you, call the management office quickly. Most management offices will get back to you if you write an email, but your chances increase if you call and talk to someone rather than writing an impersonal inquiry about an apartment.
Take a Tour
This is essential if you are trying to find a place that is perfect for you. Pictures often do not do justice to an apartment, and you really need to see it in person to decide if you can see yourself living in that space. This is also a good opportunity to meet the landlords and make a good impression. Always try to appear respectful of property and offer to remove your shoes.
Application and Rental Agreement
After you decide on a place, you have to fill out the necessary forms. If you wait too long to get these papers to the landlord, then he or she will probably rent to someone else. Your time is important and so is your landlords. In your search for off-campus housing, make sure that you get everything done in a timely manner.