When you're on the hunt for housing near Ohio University, you probably have a list of things that you're looking for in an apartment. Your list might include items such as on-site laundry, a certain number of bedrooms, utilities included in the rent, and other apartment features. But if you're going to be renting an apartment, it's vital that you remember to look at the company managing the rental as much as you look at the apartment itself. Here's what you should be looking for in a reputable rental company.
Well-Maintained Properties
The first thing that will give you a hint about the quality of the rental company is how well-maintained their properties are. You should be permitted to walk through any property you're considering renting, or at least a comparable listing so that you can see how well-maintained it is.
If you want to ensure that the company can be relied on to maintain your apartment while you're in it, ask if you can view some of their other listed properties. If all of them are quality properties that appear to be well cared for, then you shouldn't have to worry about maintenance issues being ignored. However, to be safe, look for the next item on this list as well.
Happy Renters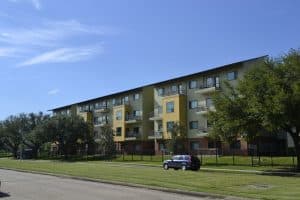 Renters are usually more than willing to dish on a low-quality rental management company or bad landlord. So, if you're walking through a property with current tenants present, don't be afraid to ask them questions. Ask them how long they usually have to wait to have maintenance issues fixed or any other complaints they might have against how their apartment was managed.
If you can't talk to any tenants, at least look up online reviews. While people are probably more likely to go out of their way to leave negative reviews for property managers, what you should be looking for is a common trend of complaints. Did they frequently fail to deal with repairs in a timely manner? Did they refuse to refund deposits even when the requirements were met? Did they breach contracts with multiple renters in some way? If you see a common thread between all the negative reviews, odds are there's some truth to it.
Availability and Transparency
Finally, pay attention to how hard it is to get ahold of the property management company, and how readily they answer your questions. If you're constantly leaving messages and never getting called back when you're trying to view their properties or expressing interest in renting one, odds are it's going to be even harder to get a call back once you're under contract.
Similarly, if they're vague about answering your questions or beating about the bush, this should raise some red flags. Of course, keep in mind that they do need to protect the privacy of the property owner and the current renters, so they may not be able to answer questions in those regards. But if they're unwilling to explain terms of the contract to you, you should look for a property managed by a different company.
If you're looking for Athens, Ohio, rentals managed by a reputable rental company, look no further than Wharton Rentals. Check out our listings of available properties here.