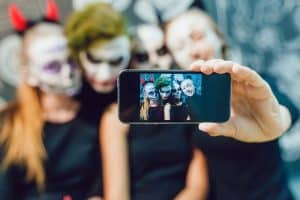 When searching for Ohio University rental houses, there are a lot of elements to consider. Starting with the most obvious, Halloween is right around the corner. This is a holiday celebrated at any age, but it's definitely a huge night in a college town. As you sift through available rental houses, don't forget about your plans for Halloween, and how the right apartment can make them a reality.
Plenty of Bedrooms
How many friends do you plan to live with this year? If it's more than two, you're going to need plenty of bedrooms. You all need plenty of room to get ready (especially with all that Halloween makeup)! The number of bedrooms that you need is a great way to narrow your search.
Spacious Common Areas
Maybe you're more concerned about having plenty of common space than having multiple bedrooms. For example, you might want to live with only one other person, but have plenty of room to invite friends over . . . perhaps for a Halloween party? A large living room and kitchen are necessities if you want a place with room to cook, entertain, and have friends come over and crash. Also make sure to keep an eye out for rentals that have large porches, big backyards, and big basements.
Close to Ohio University
For some students, it's very important to be close to school. This makes it much easier to get to all your classes and then home quickly enough to get ready for a night out, like on Halloween. This type of apartment arrangement is perfect for students that are equally dedicated to their studies and their social life. If this sounds like you and your group of friends, then start looking for student rentals within just a few blocks of campus.
Close to Night Life
Another great option is to find an apartment close to all the great bars and restaurants in Athens. For those of you with packed social calendars, you'll want to be close to the action – especially when it comes to Halloween. A quick walk to the bars makes going out (and coming home) on Halloween and other big nights so much easier.
Quiet
Not one for celebrating Halloween or other party-oriented events? We get it! Not everybody's social life includes partying and bar-hopping, and you need something more accommodating to your interests. Look for a student rental that is in a quieter part of town. If you prefer a calmer environment that allows you to kick back and relax with a Netflix binge, a study session, or a dinner date, there are plenty of low-key rentals that fit your needs. On Halloween you can spend the night studying, having dinner with a close friend or simply getting a good night's sleep.
To help you find a great apartment for your social life this Halloween, contact Wharton Rentals today at 740-592-1399. We have a variety of Ohio University rental houses available, and certainly a place that suits your wants and needs. Grab your friends and start looking for a great place to celebrate the holiday. Remember, Halloween is right around the corner, so start your housing search today with Wharton Rentals.