Whether cooking is one of your favorite passions or ramen is your fanciest delicacy, everyone experiences lingering cooking smells at one point or another. If you have roommates or just moved into an apartment where the previous tenants loved to experiment with recipes that primarily involved fish, bacon, stinky cheeses, and boiled eggs, those lingering smells can be pretty distracting. Read on for pro tips on removing cooking smells, odors leftover from previous renters, and just about any other stink you may encounter while living the apartment life.
Preventing Smells as You Go
When it comes to unwanted odors in your apartment, the best defense is a good offense. If you know you're going to cook a fragrant meal, close the bedroom and bathroom doors, open a window, and turn on the fan or vent. Once you've enjoyed your food, clean up quickly and thoroughly. Wash any used dishes, throw away scraps and take out the garbage, tightly seal up any leftovers, and wipe down the stove or microwave. Watch out for smaller culprits like sponges or washcloths, being sure to remove odor-causing particles from them as well.
Kitchen Smells
Cooking smells, even the ones that smell great at the time, tend to linger and offer unpleasant reminders of meals that were consumed in the recent or not-so-recent past. If you (go ahead and admit it) or your roommate don't take the steps to prevent the smells in the first place so you find yourself with a stinky kitchen, try these steps to remove the odors.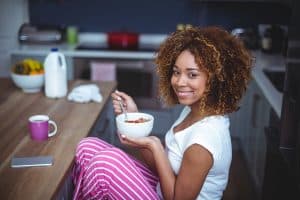 Lay out a bowl of vinegar or baking soda. Both trap odors, so you can put them out on the counter (or in the fridge) overnight so they will absorb those unwanted smells from your space. You can also pour one or both down the garbage disposal to help remove trapped odors down there.
Increase the ventilation in your kitchen. A fan, open window, or air purifier can help remove lingering food smells. Take things a step further and light a candle, plug in a diffuser, or create a homemade recipe that will replace unpleasant smells with more appealing ones. For example, vanilla, lemon peels, and rosemary put in heated water (try the stove or a slow cooker) will make your apartment smell like a fancy home goods store instead of a garbage heap.
Carpet Smells
In addition to your kitchen, carpets tend to trap odors and may not be the most fresh-smelling part of your apartment. This is another place you can use baking soda to absorb and remove smells. Sprinkle your carpets with the stuff, leave it there overnight, and then thoroughly vacuum in the morning. Carpet cleaning products can be used in the same way, and they come in a variety of scents you may find pleasant.
Curtains and Furniture
Like carpet, the fabric of curtains and furniture tend to retain smells. Never fear — these too can be deodorized back to freshness. Vinegar solutions, your trusty baking soda, scented sachets, and a little fresh air can remove the most offensive of scents in your apartment.
For questions about Court Street apartments in Athens, Ohio, and other off-campus housing, get ahold of Wharton Rentals today at 740-592-1399.