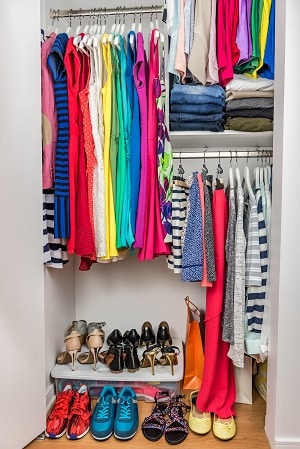 Even the finest Ohio University rentals are often lacking one thing: closet space. It's a fact of living in an apartment that most square footage is going to be dedicated to living space with very little to spare for storage spaces, such as closets. This leaves a lot of college students struggling to find room to store their clothes, shoes, and other belongings. Here are a few organizational tips that will help you to maximize that tiny closet space and keep it neat all school year.
Add Storage Under Your Clothing
The average closet—especially the tiny ones—come only with a bar for hanging up your clothing and perhaps a shelf above it. But unless you dress in formal ballgowns every day—in which case, we hope you work it—your clothing doesn't hang all the way to the floor. That leaves a lot of unused space underneath the hanging clothes.
While you may be tempted just to toss your shoes in there, this isn't the best use of that space. Instead, invest in some sort of storage or organizational unit to put underneath the clothing. This could come in the form of a small bookshelf or three-drawer organizer, which give you added spots for storage, as well as a better sense of organization.
This simple addition allows you to make better use of that space between the floor and the bottom of those hanging clothes so that you can store shoes, handbags, hats, or anything else you need extra space for in your apartment!
Think Outside the Closet
Your closet doesn't have to be the only place that you store your clothes. If there's really just not enough space in that closet, consider alternative storage options. Maybe invest in a clothing rack that can be kept in the corner of your room. Hang a branch on the wall and use it as a clothing rod—it's free, ecofriendly, and boho chic! Add a shoe organizer to the back of a door. Hang hats on the wall to double as room décor.
You can also look at storing clothing under your bed. If your bed is relatively low to the ground, look for bed risers. These can be added to the legs of your bed to give it extra height and open up under-the-bed storage for you. Stick some baskets or three-drawer organizers under there, and you've just added a ton of clothing storage to your room.
When you get creative with your storage, the possibilities are really endless, and your closet space will start to feel much less restricted!
Use That High Shelf
Often, people use that shelf above the clothing rack to just toss items that they don't really use. However, this isn't the best use of that space. Instead, store stacks of folded sweaters or handbags up there. When properly organized, these items are easy to view from the ground and simple to grab with a little bit of stretching. If that shelf is really difficult to reach, you can invest in a stepstool for just a few dollars. It's a small investment that will increase your usable closet space.
Stay on Top of It
Nothing wastes closet space quite as well as poor organization. So, once you've organized your closet and all your possessions, stay on top of it. Keep those stacks of sweaters organized on that top shelf. Keep your clothing hung straight and neat on their hangers. Use those storage bins and drawers to the best of their ability by keeping them organized.
If you're looking for Athens, OH, student rentals that offer an incredible student living experience, visit https://whartonrentals.com/properties/ to see some of our properties.