Starting a new semester at Ohio University in Athens is always exciting. If you're a freshman, you're in a whole new chapter in your life. If you're a returning student, the fall means starting new classes and catching up with some old friends. Before any of that can start, however, you'll need to find an apartment, and you'll need to get it all set up so that it's a perfect environment for both work and play. Here are a few things to think about when researching Athens, Ohio, student rentals.
Pick an Apartment ASAP
This seems like a no-brainer, but you'd surprised how many students wait until the last minute before finding the right apartment to rent. You'll want to find a place that's big enough for you (and your roommates, if you have any), and is still close enough to all your classes. After searching through a list of Ohio University off-campus housing options and finding the perfect rental, take its size into consideration. You only need enough furniture to fill it, so keeping the square footage of your apartment in mind while you're shopping will keep you from going overboard and buying stuff you don't need.
Think about Storage
Odds are pretty good that your apartment isn't going to be huge. If you're rooming with people, then storage space will likely be at a premium. Look around and see where bookcases can go, and how many you might need. There are other ways to maximize space as well. For instance, there are beds with room underneath for additional storage as well as coffee tables that incorporate trunks.
Consider a Fun Theme
Most student apartments are decorated in a strictly utilitarian fashion. This is a shame because your apartment isn't just a place to eat, sleep, and study—it should be a retreat as well. You'll need to relax sometimes and have fun, so think about using a theme to decorate your student rental.  Create a space that reflects your interest in movies, sports, or a part of the world, such as Italy or Hawaii. Not only will this result in a more attractive apartment, but it will help lighten the mood when you have to pull an all-nighter.
Garage Sales Work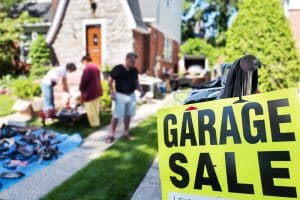 Most people see yard or garage sales and keep on walking. Here's a helpful tip to save money, however: Carry cash and peruse every yard sale you can find. By keeping an eye out for these kinds of sales (as well as swap meets), you can get most of the furnishings you need to fill out your apartment at a fraction of the cost. It's not unlikely that you'll find something really fun as well.
Keep It Comfy
You'll be spending a lot of time in your apartment, so you'll want to make sure it's extremely comfortable. You want couches and soft love seats. Your work area needs to be assembled with your health and safety in mind, so if you like a particular desk or chair, but are worried it might not be as comfortable as you'd like, then don't buy it. Your back and neck will thank you.
When you're ready to conduct a search of Ohio University rentals in Athens, OH, start with Wharton Rentals. Browse our available properties or give us a call today at (740) 592-1399.