By now, you've realized that you're no longer having a typical college experience. The coronavirus outbreak has drastically changed our day-to-day living and has created a new normal for people all over the world. You probably didn't expect to fall in love with your Ohio University off-campus housing, and then be told to stay there, and only there, for a few months. While it's not exactly a dream scenario, having a safe place to call home is considered a big plus at this moment in time. The important part is knowing how to stay safe while following stay-at-home orders. Even though you may have heard these warnings before, it's worth repeating! Here are the best ways to stay safe inside your apartment throughout the COVID-19 outbreak.
Wash Your Hands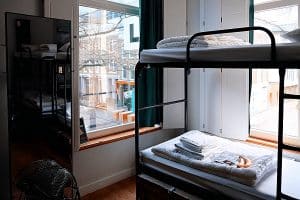 Even though you feel like you're safe within your own home, germs can linger, and anything you touch could put your immune system at risk. When you use the restroom, take out the garbage, check the mail, or bring in packages, be sure to wash hands thoroughly. Right now, it's our best line of defense besides staying indoors and avoiding crowds. Remember to wash your hands for at least 20 seconds, or as the now-famous saying goes, wash your hands for "two rounds of the Happy Birthday song." It may sound quirky, but it sure is effective! If you don't have soap and water available for whatever reason, use a hand sanitizer that contains at least 60% alcohol.
Clean Frequently Touched Surfaces
Since we're still bringing in items from the outside, like take-out food or groceries, it's important to keep frequently touched surfaces as clean as possible. Remote controls, kitchen counters, laptop keyboards, gaming consoles, and of course, everything in your bathroom should be cleaned with a disinfectant often. It's also smart to place throw pillows or blankets that are frequently touched in the washing machine, especially if they're in a shared living space. The CDC states that "diluted household bleach solutions, alcohol solutions with at least 70% alcohol, and most common EPA-registered household disinfectants should be effective."
Wear A Mask When Answering the Door
While you shouldn't be socializing or inviting guests into your home, we understand that you're still going to have things such as food, groceries, textbooks, or other items delivered to your apartment. If possible, leave the delivered items outside the door for a few hours to prevent any lingering germs from entering your home. If that's not possible, always be sure to wear a mask when answering the door, checking the mail, taking out the recycling, or anything else that might require a quick run out of the house. This can prevent you from getting infected from respiratory droplets that could be in the air. In addition, this can also protect others if you're experiencing symptoms.
If you'd like to learn more about staying safe during the COVID-19 pandemic or if you'd like information on Athens, Ohio rentals, contact a representative from Wharton Rentals today. The housing experts at Wharton Rentals are committed to keeping Ohio University students safe throughout the outbreak and providing rental options for those who need it. Give them a call today!