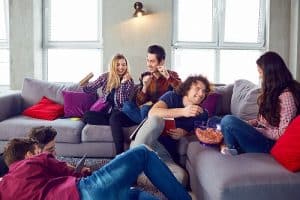 The majority of students enter college immediately after graduating from high school and continue to attend college courses full-time until graduating. If this applies to you, and you're between the ages of 18 and 23, then you're what's considered a traditional student. But if you fall outside of this definition in one way or another, you're considered a non-traditional student, and you may face some unique housing challenges that don't typically apply to your traditional counterparts. Keep reading to learn more.
What Is a Non-Traditional Student?
Most often, however, non-traditional students are 24 years old or older. They may be attending only part-time, as they have to work to provide for themselves, or even for a spouse and children. Non-traditional students may be individuals who put off their college education for one reason or another, or they may have received a GED later than most individuals graduated high school.
Many factors can lead to someone being a non-traditional student. But whatever the reasons behind it, the fact remains that most university housing is designed solely with traditional students in mind. This makes finding suitable Ohio University apartments difficult. Here are some of the reasons that traditional student housing may not work for a non-traditional student.
On-Campus Housing Requirements
First, it's important to be aware that Ohio University has strict rules regarding who is permitted to live in university off-campus housing. You must have completed at least four semesters unless you are over the age of 23. This can create some housing troubles for individuals who begin their college education later but are still below the age threshold for living off-campus.
Designed for Roommates
Most university housing is designed for young, single college students. And, more often than not, that means it's designed for several roommates to share the apartment with you. This greatly limits the housing options available for non-traditional students that have families. Family housing can be much harder to come by than apartments designed for multiple single renters.
Meeting Family Needs
Traditional student housing is not designed for families with young children, and this can become an issue for many non-traditional students. Students who are raising families typically want a living situation that better suits the needs of a growing family. They want to rent a property rather than renting a space in an apartment; they may want a house with a yard, as opposed to a small apartment with little space for children to play. A young family simply has more specific housing needs than most traditional college students.
Tackling These Challenges
While finding suitable housing when you're a non-traditional student may be difficult, it's not impossible. There are resources available to help you find housing that meets your unique needs. For example, the Association for Non-Traditional Students in Higher Education (ANTSHE) exists to help non-traditional students find scholarships, grants, and funding for education costs, as well as providing other assistance. This is a great place to turn for help.
At Wharton Rentals, we have many properties in our listings that are designed for non-traditional students. In addition to the traditional Ohio University apartments in Athens, OH, we also have many single-family rental properties that are perfect for older students who are attending school while raising a family. If you're looking for a housing solution that works for your unique situation, contact Wharton Rentals today at 740-592-1399.