Parking disputes are surprisingly common at apartment complexes and other multiunit rental properties. All it takes is for one person to park where they shouldn't, and you can have a cascading parking problem that impacts several rental units. While it's the landlord's (or property management company's) responsibility to provide safe, designated parking spots for tenants, it's the tenants' responsibility to ensure that that parking is used correctly. Here's what you need to know to avoid parking disputes at Ohio University rental properties.
Park in Your Spot
This should go without saying, but we'll say it anyway: You should always park in the parking spaces assigned to your unit. These should be clearly denoted with your unit number, so there should be no question about which spot is yours. If you have a complaint about your parking space, please bring the issue to your property management company or landlord, rather than just parking in someone else's space. As mentioned above, this can cause a domino effect of incorrect parking that impacts many people in your complex and leads to a lot of frustration.
If Someone's in Your Spot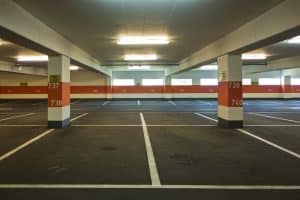 But what if someone else is in your parking spot when you get home? This is a common complaint among apartment tenants, and it's most often caused by a guest visiting another apartment. Again, please don't let this cause cascading parking problems by simply parking in another unit's spot. Instead, you can contact your landlord, property manager, or the towing company responsible for monitoring your complex's parking lot. Most apartment parking lots have signs clearly stating that the parking is for tenants only and will have contact information that you can use to have the car towed from your spot.
If you want to take a more nonconfrontational approach, simply find unassigned parking that you can use until the person moves their vehicle. This could be excess parking in your complex's parking lot, or simply parking on the street. If you think you know who the vehicle belongs to, you can, of course, just ask them to move their car to a guest spot.
If You Have Issues with Your Spot
As already mentioned, if you have a complaint regarding your parking space, you should submit it to your property manager or landlord. Generally speaking, simply wanting a closer space won't warrant any changes to your parking assignment; obviously, everyone would like these premium parking spots, and not everyone's desires can be accommodated in this regard. However, if you have a more serious issue with your parking assignment (e.g., you have mobility issues, and your spot is far away or difficult to access), you may be able to get some reasonable accommodations.
In some apartment complexes, tenants are able to trade parking spots if both parties are amenable. For example, let's say your apartment complex has both underground and aboveground parking. You would like an underground parking spot, but these have all been assigned. Another tenant may be willing to trade their spot with you (or "sell" it to you, if they paid a fee for the upgraded parking). Just be sure to go over your contract to ensure this is permissible or speak to your property manager about it.
The bottom line when it comes to avoiding parking disputes is to never be a part of the problem; don't park in another unit's assigned space, even if someone has taken yours. If you're looking for Ohio University houses in Athens, contact Wharton Rentals today.